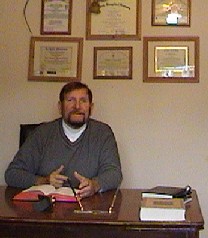 Pastor Bill Perry
Greetings in the name of the Lord, and thanks for visiting our web site. You're obviously looking for something. I believe we all are.
I've come to believe that life can be hard and confusing at times. Often times it's difficult to know what to do, how to do it, or where to turn for help.
We admit that we don't know all the answers, but we do serve a God who does. We believe in and experience the reality of the Creator and Sustainer of the Universe. We worship and are in relationship with the all knowing, ever-present, all-powerful One who has left us with both clear instructions on how we should live and with a guide to help us along the way.
We believe that community is vital to the Christian walk, that families and individuals should be grounded in the church, and that each of us has a responsibility to respond to God.
We also believe that if you desire more in life, that genuine study and meditation on Scripture, authentic time spent in prayer, investing in relationships with other believers, and living out your faith by serving others will lead you in the direction you are longing for and will start you on a path that will ultimately take you where you want to go.
Does any of this intrigue you? Are you interested in finding out more? Would you like us to come along side of you and your family so we can journey together? If so, please contact me so we can get together and talk. I very much look forward to meeting and getting to know you!
For His Glory
Pastor Bill
Ministry Links
National Conservative Christian Church
National Christian Counselors Association
Sarasota Academy of Christian Counseling